The Prolight+sound shanghai of fran...
The Prolight+sound shanghai of frankfurt fair from October 13 to 15,2010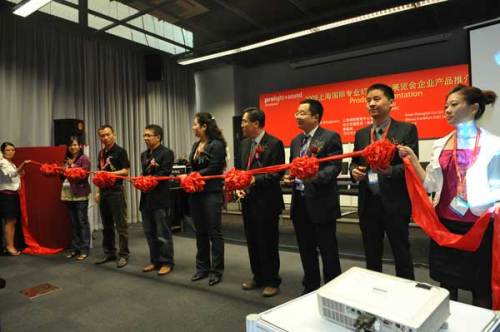 opening ceremony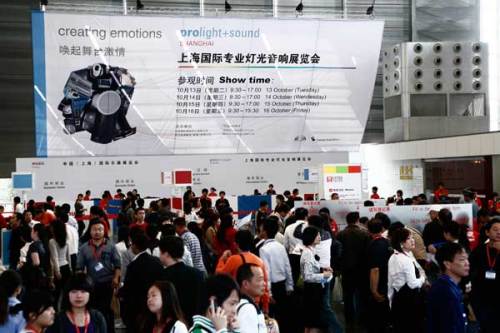 reception centre



Prolight + Sound Shanghai
9 – 12 October 2008, Shanghai New International Expo Centre
Record number of visitors attend Prolight + Sound Shanghai
Show receives excellent review from exhibitors and visitors
Large crowds enjoy daily music entertainment
Specialist seminars prove popular with visitors
The sixth edition of Prolight + Sound Shanghai, one of China's most important events for the professional audio and lighting industry drew a record crowd of visitors from 82 countries and regions when held at the Shanghai New International Expo Centre, 9 – 12 October 2008.
Visitors to the show found a variety of sound, entertainment and lighting technology spread over two halls as well as exclusive live concerts hosted by Sennheiser microphones and Pioneer.
Prolight + Sound Shanghai attracted 14,152 visitors, an increase ofnearly 4% compared to last year.Of these 13,008 were domestic visitors, a rise of 6% and 1,144 were international visitors.There were 308 exhibitors from 10 countries and regions showcasing their products in 23,000 sqm.
Prolight + Sound Shanghai 2008 Fair Statistics at a Glance
| | |
| --- | --- |
| Total no. of visitors | 14,152 (up nearly 4%) |
| Local visitors | 13,008 (up 6%) |
| Overseas visitors | 1,144 |
| Number of countries represented | 82 |
| Top 10 visiting nations and regions (in order, greatest first) | China, USA, Japan, Korea, Taiwan, Hong Kong, Germany, Thailand, Australia, Malaysia. |
| Total number of exhibitors | 308 |
| Local exhibitors | 290 |
| Overseas exhibitors | 18 |
| Number of countries represented | 10 |
Positive feedback from exhibitors and visitors
The lively and productive business atmosphere at Prolight + Sound Shanghai resulted in positive feedback from both exhibitors and visitors.
Tony Ching of Goang-Fann Co Ltd (Taiwan), a professional audio equipment manufacturer was promoting his new SuperluxHD681earphone."We used to be mainly specialised in the manufacture of microphones," he explained "but we decided to enter the earphone market now, and we think Prolight + Sound Shanghai is a very good platform for the new product launch. We have been handing it out during the show and it received a lot of attention from visitors. So far, we have had a series of orders for around 100,000 items. We are very happy about this and will return next year."
Also enthusiastic about visitor response is third time exhibitor Shure Asia Ltd, manufacturers of professional and personal audio products.Wendy Ji, Shanghai Marketing Manager said: "It is a wonderful trade show for us and an opportunity for people to see what Shure has. We have visitors from China and overseas, America, Australia and the Middle East.They are interested in the wireless product system.Most of them will use our products for on-stage application. We will exhibit again next year."
Qu Lei, Domestic Sales Director for CR Photoelectric Technology Co Ltd has been an exhibitor for five years. His company specialisesprofessional laser projector R&D, production, sales and installation. "Light and sound is a very competitive industry," he commented."By exhibiting in one of the best trade fairs it is very helpful to keep abreast of the latest market information as well as to promote the brand image. Messe Frankfurt is obviously one of the most prestigious names in trade fair organising. I am happy about the result and definitely will return in 2009."
A relative newcomer to the sound industry is Ningbo Longer Electron & Technology Co. Ltd. Michael Hanson, Sales Manager said he began exhibiting at the show three years ago with an 18 sqm booth. "Having witnessed the success and high popularity of this show, this year we've increased our booth space to 114 sqm. We believe that a bigger booth helps to enhance our brand image as well as to present our company as one of the top players in this area. And as a result, we have welcomed a lot more visitors this year. We are very happy about this. The result exceeds our anticipation."
Taiwan exhibitor Litz Technologies Co Ltd distributes 'THAT', an analogue audio integrated circuit for pro-audio and broadcast, stage equipment.Company representative Wilson Lin said: "We have met a number of new business contacts from southern China, which is our target market as 80% of audio components are made in this region.And that's the reason we exhibit this show.There are real professional buyers looking for high quality materials for new product development."
Visitor Joe Barros, Key Accounts Director, Electronics Division, Amalgamated Appliance Group, South Africa said:"This is a great show!The halls are nicely laid out and are very user friendly.I've brought mixers and speakers from an exhibitor here for a reasonable price and good quality."
Irish nightclub owner Kevin McCabe attended Prolight + Sound Shanghai to look for light and sound mixing equipment."The show layout is excellent," he commented."People here are very helpful, stands are professional and product price is attractive.I definitely recommend this show to anyone who is looking for pro audio and lighting equipment."
Regular German visitor, Bernd Menrad, Managing Director, MBN Event Products remarked: "In business you must always go to Asia to get a world view of the market. I have found some very interesting things here."
Large crowds enjoy daily music entertainment
During the day, visitors to Prolight + Sound Shanghai were able to enjoy live music performances in two outdoor tents.
Exhibitor Sennheiser hosted Asian rock band The Honeys and American singer Lucius Clark in their outdoor tent.Sennheiser's General Manager, Marc Vincent, said: "It's very important for us to be in Shanghai to give exposure to our brand and develop our market for the future. Our concert tent has been very very successful.We are demonstrating a new speaker technology and people are really digging it."
For the sixth year running Pioneer sponsored the popular annual DJ competition. Mr Shigeru Terada, General Manager, HGB Pro-SV Division, Pioneer said:"This year we've divided the DJ competition into two groups of "house music" and "hip hop", where candidates from Beijing, Shanghai, Guangzhou and Hong Kong were evaluated by their skills of mixing and scratching.Their skills have certainly improved and some are very creative in their music!China is a very important market for our DJ equipment as we have a 90% market share.We only participate at three exhibitions in China to promote our brand and Prolight + Sound Shanghai is the one we picked to target Shanghai – one of the key cities for our promotion in China."
Specialist seminars prove popular with visitors
Adding an education component to Prolight + Sound Shanghai were a series of seminars co-organised by respected industry associations and Sennheiser China.
The Stage Technology Seminars, co-organised by China Stage Design Society, invited experts and executives from the World Expo Performing Arts Center, the Bureau of Shanghai World Expo and NITA Group to present the venue design and special features of the 2010 Shanghai World Expo to contractors across China.
International speaker, Florian von Hofen, Chief Executive, Professional Lighting & Sound Association of Germany was invited to present the topic of "Rigging Standards for China" at the Stage Technology Seminars.
"What I've seen from the very first show I attended is that the quality of the seminar audience has really improved.People sitting in the seminar really knew what I was talking about and were interested and asked me very competent questions."
---